Vegavid Blockchain Development Solution
Our blockchain solution is a unique combination of technologies and approaches that increase the efficiency, security, and flexibility of blockchain applications. We have the right people and tools, and we are ready to help your business shift into Blockchain.
Our team experts strive to come up with innovative strategies that help startups and enterprises leverage the blockchain technology. We provide end-to-end blockchain application development services under one roof. There are several businesses around the world, who are searching for optimum scalability solutions.
Integrate your business with Vegavid's industry-specific blockchain solution to obtain high-end security and bring mobility to your organization. Our highly skilled team helps the businesses to leverage the potential benefits of blockchain by integrating the latest distributed ledger technologies, smart contracts, and identity solutions.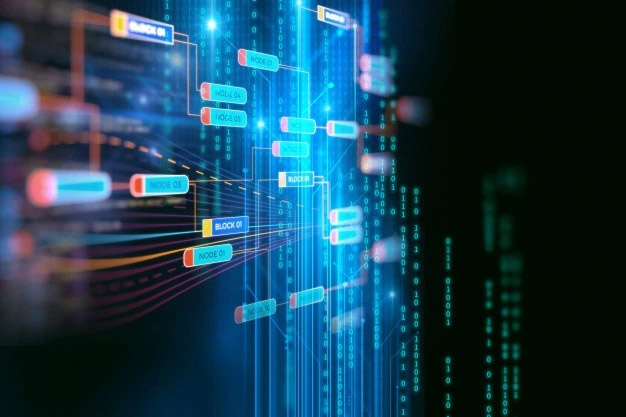 BENEFITS OF OUR BLOCKCHAIN SOLUTIONS
OUR BLOCKCHAIN TOOLS AND TECHNOLOGIES
Ethereum
A decentralised blockchain platform that establishes a peer-to-peer network with smart contract functionality.
Binance Smart Chain (BSC)
A dual-chain architecture that allow users to built decentralized apps and digital assets on one blockchain.
Matic
A scaling solution that seeks to give several methods to boost the speed of transactions on blockchain networks while lowering their cost.
Cordano
Cordano allows you to develop blockchain networks for private transactions.
Hyperledger
An open-source distributed ledgers technology used for developing solutions and applications.
Tron
A decentralized platform to develop high-performance blockchain apps.
Hashgraph
A distributed ledger technology that can protect platforms from malicious activity.
Ripple
A blockchain-based digital payment network and protocol that facilitates fast and cost-effective transactions.
How We Work
We help our clients across industries to apply Blockchain technology to optimize their business operations
Latest Blogs
Read our blog on topics worth exploring and get technological insights that will amaze you.
View All