We solve complex problems in AR & VR using emerging visuals & interactive metaverse technologies.
Metaverse is the future of Augmented Reality and Virtual Reality. Metaverse is a decentralized open platform based on public blockchain technology. The objective of the metaverse is to provide the public with an open ecosystem for digital assets and values using blockchain technology and build an integrated development environment to simplify building and implementing applications that interact with digital assets.
Vegavid Metaverse Development Company is the world's first company dedicated to creating customized digital avatars for clients. We facilitate a sophisticated artificial intelligence engine and advanced 3D design tools to create a customizable digital avatar of your face, body, or whatever you want. Our team comprises experts with diverse experience in blockchain, AR/VR technology and design to offer you customized, cost-effective and result-oriented metaverse components.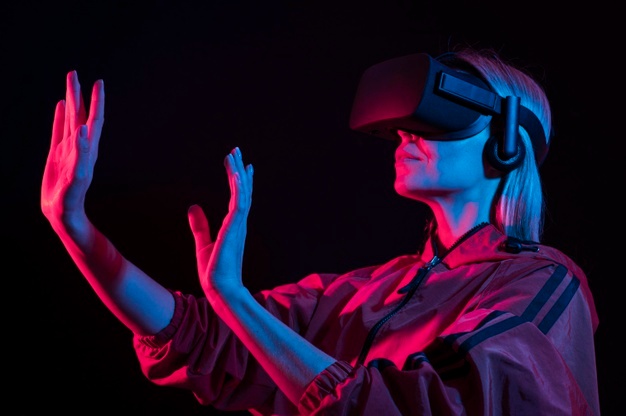 Hire The Best Metaverse Developer
Collaborate with Vegavid Technology to Modernize. Mobilize. Mature your business. Our developers use the best tools and technologies for building a metaverse solution to give you an unfair advantage over your competition.
OUR FOUNDATION
Vegavid has the best team of developers and creators who blend your ideas with the next-gen technologies to transform your business environment. We help businesses develop their virtual world.
Explore more possibilities with Metavarse
Being a metaverse development company, we build a virtual environment for the brands that deliver engaging and fruitful experiences.
Improve Your Business
Bridge the gap between the real and virtual world to deliver an experience of the new world to your customers.
Develop An Interactive Platform For the Audience
We help you build an interactive VR platform so that the users can live that reality.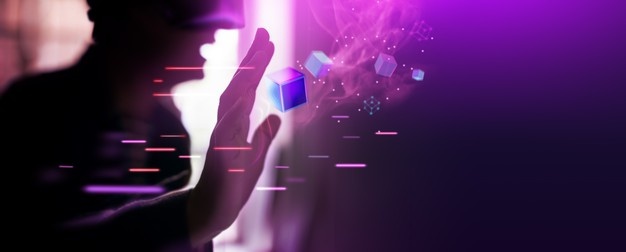 Our Metaverse Development Process
We follow several steps and perform several tasks before delivering a refined metaverse product.
Metaverse is a network of 3D virtual worlds focused on social connection. Science fiction is a hypothetical iteration of the internet as a single, universal virtual world. Metaverse is the next-generation blockchain-based infrastructure that will allow for the development of unimaginable applications. It will allow a new way to access services, transact and communicate. Just as the internet has revolutionized the world, Metaverse will transform our lives as we know it.
Many different communities use metaverse with different connotations and contexts. Metaverses encompass various aspects of social media, online gaming, augmented reality (AR), virtual reality (VR), and digital currencies.
The metaverse is a concept that has become increasingly popular since the beginning of the 21st century. The idea of the metaverse is a shared, persistent, and globally interconnected virtual reality that offers its users a complete, realistic experience. Commonly, the concept is associated with the idea of a "cyberspace" that has been around since the 1980s. The term was coined by science fiction author Neal Stephenson in his 1992 book Snow Crash . The metaverse is somewhat similar to a shared hallucination popularized by William Gibson in his novel Neuromancer . Thanks to his popular novels The Diamond Age and Snow Crash, Neal Stephenson has become associated with the concept.
Companies leveraging Metaverse solutions to other businesses help them in building a new virtual world for their customers. The Metaverse is the next big leap in technology. It is a 3D virtual reality that will soon be available to everyone. The Metaverse is a world (or worlds) where users can go to and socialize with friends, meet new people, go shopping, and more. The Metaverse is all about connecting users to each other and the objects around them in a virtual space. Businesses will soon have the opportunity to transform with the Metaverse technology and be prepared for the changes it will bring. The Metaverse will change how we live and interact with each other and the world.