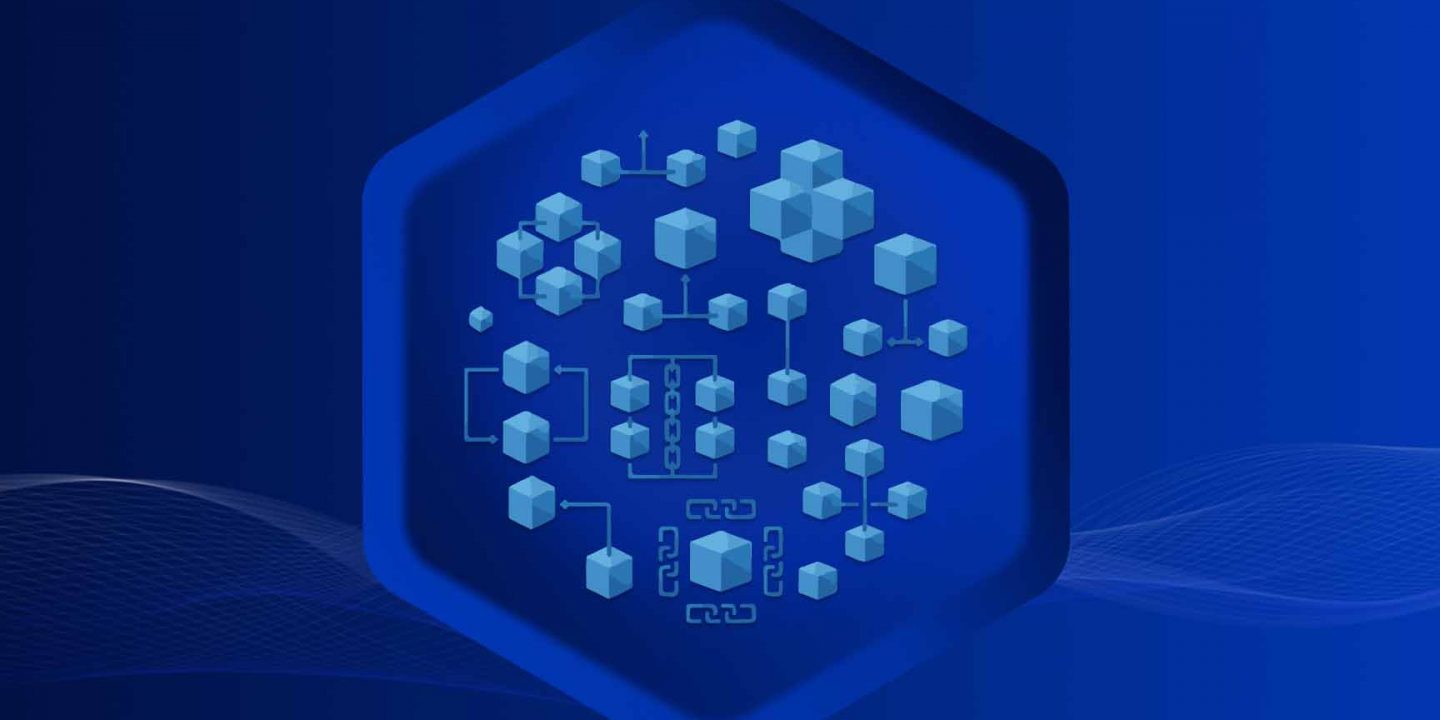 Over the past few years, the adoption of blockchain technology has been expanding tremendously, around the world. Aside from underpinning cryptocurrencies like Bitcoin and Ethereum, the technology has many significant implications for how we live, work, and play. In today's time, almost every industry is exploring different use cases for blockchain technology.
A report published by the World Economic Forum claimed that by 2025, 10% of GDP will be stored on blockchains or blockchain-related technology.
Blockchain technology is poised to revolutionize the way the digital world handles data and does business. Technology has the potential to bring changes around the world.
Before proceeding further, let's understand the meaning of Blockchain Technology.
What is Blockchain Technology?
Blockchain is a system of recording information in a way that makes it difficult or impossible to change, hack, or cheat the system.
A blockchain is essentially a digital ledger of transactions that is duplicated and distributed across the entire network of computer systems. Each block in the chain contains a number of transactions, and every time a new transaction occurs on the blockchain, a record of that transaction is added to every participant's ledger.
These participants are only able to edit the sections of the blockchain that belong to them. In order to make changes, the user is required to have private keys, which is equivalent to a password.
Blockchain Technology Features
One of the best features of blockchain technology is that every copy on the network is synchronized, even though the technology is not linked to a common processor.
It is to be noted that each block secures the digital details in three parts:
Information regarding blockchain transactions like date, time and amount.
The blockchain records the details of participants who process transactions. The purchase is recorded without using identifying information and relies on digital signatures.
A cryptographic hash function (CHF) distinguishes the current block from the last block. This is a mathematical algorithm that maps data into a unique code composed of a hash distinctively set apart from the hashes of other blocks.
Power your business with blockchain solutions that provide greater security, transparency, and efficiency.
Vegavid Blockchain Development Services
History Of Blockchain Technology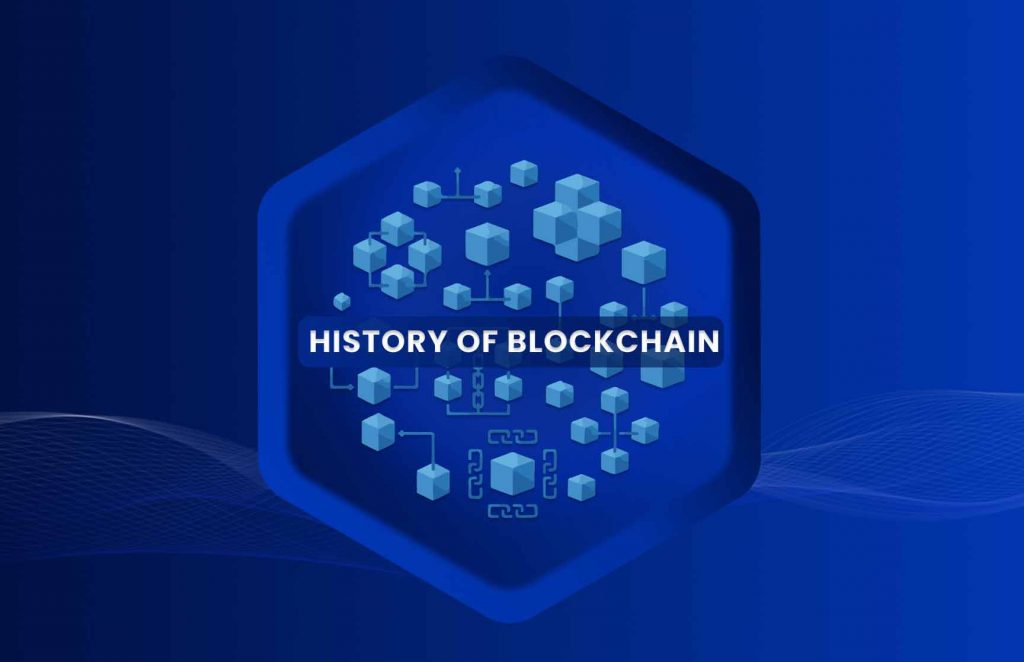 The first prototype of blockchain technology is dated back to 1991 when computer scientist Stuart Haber and physicist W. Scott Stornetta applied cryptographic techniques in a secured chain of blocks to store the time-stamped documents.
Later, Merkle Trees was also incorporated into the design, which made blockchain more efficient, as it allowed several documents to be collected into one secured block. However, this technology went unused, and the patent lapsed in 2004.
In the same year, computer scientist and cryptographic activist Hal Finney introduced a system called Reusable Proof Of Work (RPoW) as a prototype for digital cash. It was a significant early step in the history of cryptocurrencies. The RPoW system worked by receiving a non-fungible Hashcash based proof of work token in return, creating an RSA-signed token that further could be transferred from person to person.
RPoW solved the double-spending problem by keeping the ownership of tokens registered on a trusted server. This server was designed to allow users throughout the world to verify its correctness and integrity in real-time.
Four years later, the theory of distributed blockchain development technology was conceptualized by Satoshi Nakamoto. He improved the design in a unique way to add blocks to the initial chain without requiring them to be signed by trusted parties. The evolution of blockchain technology has been steady and promising for the world.
Initially, the Blockchain platform was developed to support Bitcoin, but now the technology is demonstrating a level of versatility and security, which made several sectors take notice and begin putting it to their use.
The technology has already passed the peak of the hype cycle and has entered a period of disillusionment, which brings about realism to blockchain technology. It will not only change our technological aspect but will also affect the ways we function as a society.
5 Ways Blockchain Technology Will Revolutionize
Here are reasons you should know that will revolutionize the world because of blockchain technology.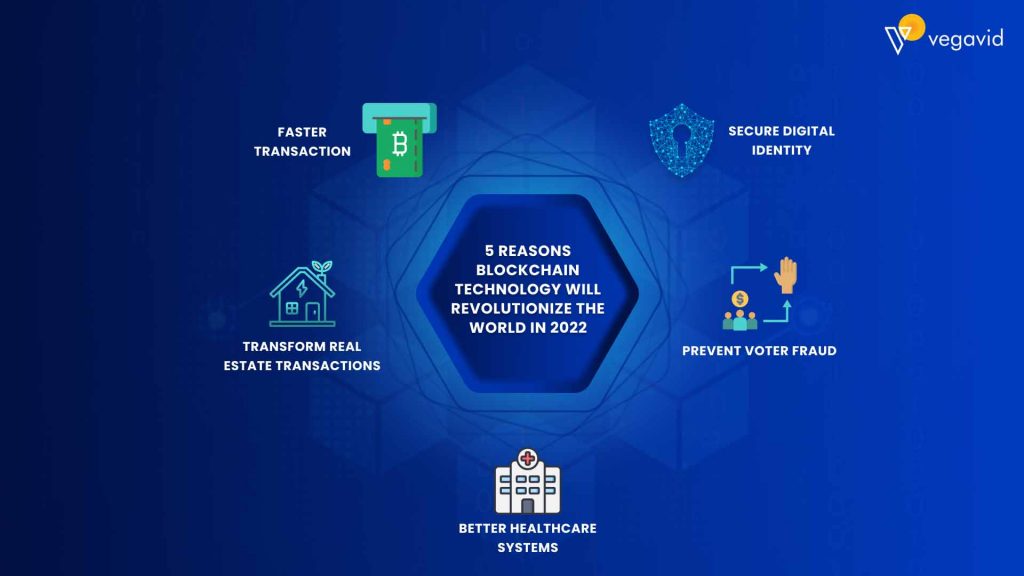 1. Faster Transaction
Blockchain technology is decentralized and secured in nature, therefore, it becomes difficult for any nefarious party to tamper with transactions processing through the platform. Blockchain-verified data is highly secure and trustworthy, meaning transactions can be processed much faster than in today's world without compromising security.
2. Secure Digital Identity
Blockchain technology has upgraded the system of identification on an online platform. Earlier, individuals had to use passwords and authentication questions to prove their identity online. But now, Blockchain has replaced this system with a digital identity. It is a safe, secure, and easy to manage technology.
A person's digital identity is based on the unique random set of numbers assigned to each user on a blockchain network.
3. Transform Real Estate Transactions
Proving and verifying identities has become one of the most significant issues in real estate. Right now, it can take up to 45 days for a bank to complete the Know Your Customer (KYC) process for a buyer closing on a house.
Since blockchain makes data more easily traceable, this lengthy verification process could be eliminated through smart contracts. These self-executing contracts could be written to perform a wide variety of tasks, including processing loan requests and verifying identities.
4. Better Healthcare Systems
As we mentioned earlier, digital identities could be stored and managed through blockchain technology — and this goes for health records as well. Healthcare providers could also use blockchain technology to exchange data with each other securely. This would reduce redundancies and improve the speed of diagnosis while also protecting patient privacy at all times.
5. Prevent Voter Fraud
Voting with blockchain technology could be easier, faster, and more secure than how we vote today. It would also help protect voter identities (and even support remote voting). As a technology, blockchain is quickly becoming unrivaled. One of the biggest problems that blockchain's decentralized muscle can solve is voter fraud.
Blockchain Technology has tons of potential and it's constantly expanding. It has resulted in the development of thousands of new job positions and new startups in the market. Blockchain is advancing fast and its future looks bright in the coming years. But, it has some limitations such as scalability and data privacy.
The use cases of blockchain technology are subjective to industry. its ability to engage and manage a constituency is crucial to the future of society, not just to produce a transparent outcome but to encourage all people to participate in their communities. Currently, the technology is still in its infancy, but maturing alongside the business will help them to adopt in the long run.
How Can You Integrate Blockchain Technology With Business?
Vegavid Technology is a leading Blockchain Development Company that has a team of expert Blockchain developers who have tremendous knowledge and experience in blockchain technology. We can help your business to automate with blockchain technology. Blockchain helps in the verification and traceability of multistep transactions needing verification and traceability. It can provide secure transactions, reduce compliance costs, and speed up data transfer processing. Blockchain technology can help contract management and audit the origin of a product
So if you are looking to transform your business digitally, then talk to our blockchain consultant today.