With increasing mainstream popularity, it's important to keep in mind that marketing strategies for the crypto and blockchain industries differ. Along with this, consideration should be made of specific strains that are uncommonly present in marketing today.
There are various factors that crypto marketers have to consider when it comes to setting up a solid marketing campaign. A few things you can do: plan a strategy, optimize your marketing budget, and make your content more interesting.
Readers will read less of your text if you have enticing images and multimedia: if that's what you're invested in, then those are the right digital products for you. With these essentials, this post is meant for crypto marketing business owners and digital marketers who want to adapt to the rapidly changing capabilities of businesses willing to promote their products or service. We discuss what crypto marketing is as well as 10 strategies you can use to grow your business.
What is Crypto Marketing?
Crypto marketing is a type of marketing that focuses on promoting and raising awareness of cryptocurrencies and related projects. It can involve a wide range of activities, such as creating and managing social media accounts, writing blog posts and articles, running online ads, and even organizing offline events.
The goal of crypto marketing is to increase the visibility of a project and help it reach a wider audience. In the process, it can also help generate leads and build a community of supporters around a project.
Crypto marketing can be a complex and challenging undertaking, but it can also be highly rewarding. done well, it can help a project reach its full potential and make a lasting impact on the crypto world.
Why Crypto Marketing is important?
Crypto marketing is important for a number of reasons.
Marketing is the process of creating value for a company through the creation and distribution of products or services.
Marketing is about understanding customer needs and desires and then creating a unique offering that meets those needs.
Marketing must be strategic, and it must align with the overall business strategy.
Marketing efforts must be planned and structured in a way that allows for consistent execution and measurement.
Marketing must be constantly evolving to keep up with the ever-changing landscape.
Marketing must be able to reach the right people, at the right time, with the right message.
Marketing must be able to create and sustain customer interest and engagement.
Marketing must be able to generate leads and sales.
Marketing must be able to build brand awareness and equity.
Marketing is a critical function in any business, and crypto marketing is no different. Crypto marketing is important because it helps businesses to reach their target audiences, create value for their products or services, and generate leads and sales.
How to Market Your Crypto?
Cryptocurrency is a growing and popular form of currency. However, it can be difficult to market your crypto if you don't know what to do. Here are some remarkable marketing strategies that can help you sell your crypto.
The first step is to create a strategy. You need to decide what you want to achieve with your crypto marketing campaign. Do you want to increase awareness of your coin? Increase trading volume? Generate new customers? Once you have a goal in mind, you can start planning your campaign.
One of the most important aspects of any cryptocurrency marketing campaign is branding. You need to make sure that your coin stands out from the rest. This means creating a unique name and logo and developing an effective marketing strategy. You also need to make sure that your website looks professional and appeals to potential investors.
Once you have a strategy and a brand, it's time to start marketing your crypto. The most common way to market crypto is through social media platforms like Facebook, Twitter, and LinkedIn. You also need to create compelling content about your coin and distribute it through these channels. You can also create whitepapers and make appearances at events related to cryptocurrency.
It's important to remember that you'll need to constantly engage with potential investors through social media and email. Most ICOs have a team of people dedicated to this task, but you also need to be willing to connect with potential investors yourself. Eventually, you should get in contact with an investment firm. You can choose a firm that works with cryptocurrency or accept that they don't work with crypto at all. The most important thing is to find the right relationship between your marketing strategy, brand, and investment fund. Once you've connected with the right investor, it's time for the hard part: selling your coin!
Top 6 Crypto Marketing Strategies For Beginners
Cryptocurrencies are a new and innovative form of money that is quickly gaining popularity. There are many people who are looking to invest in this new form of currency, and you need to do everything you can to market your crypto project to these potential investors.
Here are six primary strategies that you can use to market your crypto project: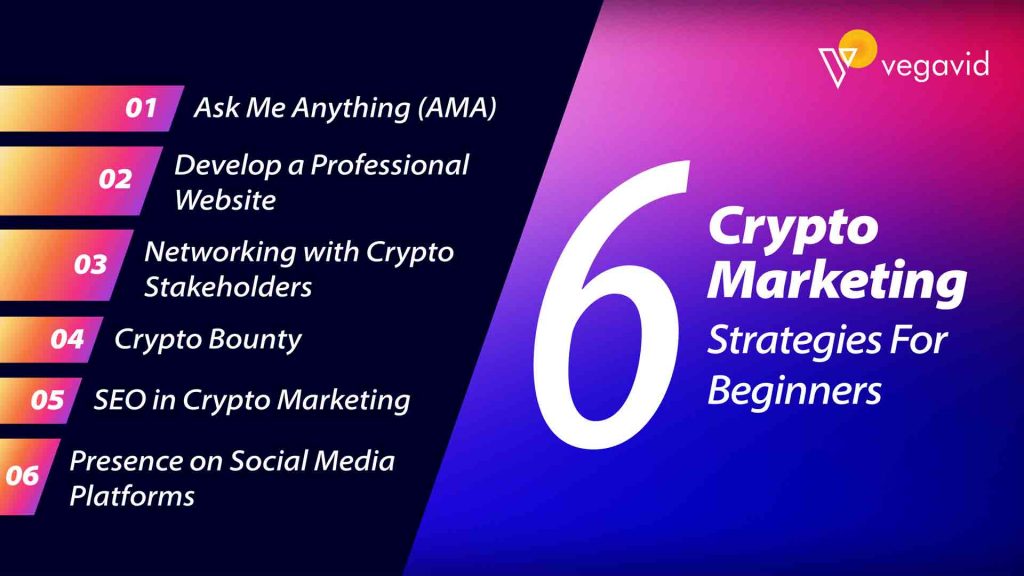 1. Ask Me Anything (AMA)
One of the most popular methods of marketing is through an "Ask Me Anything" (AMA). An AMA is a formal conversation between a company or individual and the public. During an AMA, the company or individual posts a question on their website and invites anyone who wants to ask questions to do so. The goal is for the company or individual to provide quality information and engage with customers.
In an AMA session, you can ask the founder or CEO of a company any question you want. There are many benefits to doing an AMA. First, it lets you show your expertise and help people learn more about your product or service. Second, it allows you to network with other entrepreneurs and investors. And finally, it can help build trust and credibility with your audience, so if you're looking for ways to increase your exposure and grow your business, do an AMA!
2. Develop a Professional Website
Paid advertising is one of the most effective ways to promote your crypto project. Paid advertising platforms like Google AdWords will allow you to place ads in Google search results and on websites across the web. You can also spend money on ads on social media platforms like Facebook and Twitter. When done correctly, paid advertising can help to drive more people to your website and social media profiles. However, it's essential to follow all the rules of the platform you're using so that as many people see your ad as possible.
3. Networking with Crypto Stakeholders
Effective crypto marketing strategies should emphasize strong networking skills. A successful crypto marketing plan must develop strong relationships with potential investors and partners. It is also essential to cultivate a network of investors who can provide valuable input and support during the implementation phase.
Crypto stakeholders can be a valuable source of networking opportunities. By networking with these individuals, you can learn about the latest trends and developments in the crypto world. Additionally, you can find collaborators who can help promote your project or product. When approaching crypto stakeholders, be prepared to provide valuable information and share your project or product in a relevant way.
4. Crypto Bounty
Crypto Bounty programs are a great way to get your company exposure and generate buzz. They also offer an exciting opportunity for people interested in digital currencies to earn money. Many different bounty programs offer different rewards, so it is essential to find the one that is right for your company. Some of the best crypto bounty programs include Bitcointalk, Twitter, and Reddit. Here you can offer rewards to people who help spread the word about your product or service. You can also offer crypto discounts to those who refer new customers. By using these strategies, you'll be able to reach new customers and increase your marketing efforts.
5. SEO in Crypto Marketing
There are a few things that you need to do to market cryptocurrency effectively. One of the most important things is to display campaigns. This means that you should create a series of ads that promote your cryptocurrency to generate interest. You can also use social media platforms like Facebook and Twitter to market your coin. Additionally, you should ensure that you have a website and plenty of content so people can learn more about your coin. Finally, you should attend crypto events and meetups to connect with other crypto enthusiasts.
6. Presence on Social Media Platforms
Crypto marketing is a growing industry, and it's essential to have a presence on social media platforms to stay up-to-date on the latest trends. There are many different platforms to choose from, so it's essential to find one that will work best for your business. Some popular social media platforms include Facebook, Twitter, LinkedIn, and Instagram. It's essential to create a strong profile on each platform and make sure you're regularly posting engaging content. You should also start building relationships with other crypto marketers and consult crypto marketing agencies so you can learn from their successes and failures.
Mistakes To Avoid With Crypto Marketing
Marketing is one of the most important aspects of any business, and it's essential that you make the right decisions when promoting your product or service. However, many marketers make the same mistakes over and over again, which can have a negative impact on their business.
One of the biggest mistakes marketers make is focusing too much on quantitative measures such as website traffic or follower counts. These measures are important, but they're not the only thing that matters when it comes to marketing your business.
You also need to focus on qualitative measures such as customer reviews and social media engagement. This type of data tells you how well your customers are liking your products or services, and it can help you identify areas where you need to improve.
By making the right decisions when it comes to marketing your business, you can ensure that it continues to grow in both stature and profitability.
Conclusion
The main objective of this blog post was to evaluate key elements of a crypto marketing plan that businesses operating in this industry should adopt. An effective and efficient cryptocurrency marketing strategy will help an organization to achieve tremendous growth and profits. A proficient cryptocurrency marketing agency will help your business achieve the deployed resources' full potential.