Cryptocurrencies are one of the hottest topics of the day. As the price of Bitcoin, Ripple, and many other cryptocurrencies touched the skies, you can expect more people to be investing in them. Cryptocurrencies have gained significant growth in the online business.
More and more online shoppers are now using crypto as their first choice of payment option. If you are running an online business, you must consider integrating a secure crypto payment gateway. In this article, we have listed the top crypto payment gateway you can choose for your online business.
Cryptocurrencies are digital or virtual currencies that use encryption techniques for security. The first and most famous cryptocurrency is bitcoin, which was created in 2008. Since then, numerous other cryptocurrencies have been created. Cryptocurrencies are used primarily outside existing banking and governmental institutions and are exchanged over the Internet.
But before that, let's understand the basics and importance of a crypto payment gateway for online business.
What is a crypto payment gateway?
A crypto payment gateway is an online payment gateway that allows users to pay with crypto coins. It is a system that allows you to accept cryptocurrencies. There are many different crypto payment gateways, each with its own features and limitations.
While crypto payment gateways are still in their early stages, it is clear that they will become a popular way to make payments online. The crypto payment gateway is a platform that allows a merchant to accept cryptocurrency payments and convert them to fiat money. Thanks to the crypto payment gateway, you can accept cryptocurrency payments on your online store.
What is the benefit of a crypto payment gateway for business?
Accepting a cryptocurrency in exchange for goods and services can be a more efficient approach to acquiring payment than the traditional credit card or PayPal. Cryptocurrencies provide a way for customers to purchase goods and services with a method that is entirely peer-to-peer (without a middleman). As the popularity of cryptocurrencies grows, their use as a payment method will likely increase as well.
Why Cryptocurrencies are the future of online commerce?
The world has gone digital, and it has brought a great change in the way we spend money. Today, you no longer have to make a long line in a bank to deposit or withdraw money. People have become more tech-savvy and are using the internet for almost everything, including shopping and paying for their purchases.
Cryptocurrencies are the future of online commerce. This is why most cryptocurrency experts predict that cryptocurrencies will become mainstream in the next few years. Moreover, some even go as far as to predict that fiat currencies will become obsolete in 5 to 10 years.
Moreover, it has also become quite popular among online merchants and businesses. Today, there is a huge surge in the number of online businesses that accept cryptocurrency as a payment option. In fact, many online businesses are switching from traditional payment methods to cryptocurrencies.
Top Crypto Payment Gateway For Online Business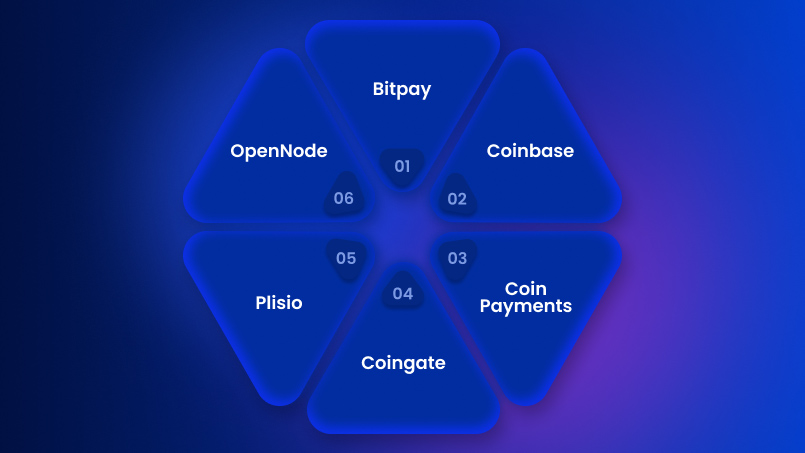 In 2018, there were over 500 active crypto payment gateways for merchants to accept crypto payments for their products and services on their e-commerce websites. However, most of these crypto payment gateway providers are not suitable for medium and large enterprise-level businesses. In 2022, there will be less than 30 major crypto payment gateway providers.
Most of these crypto payment gateway providers will be equipped with their own cryptocurrency wallet, their own blockchain, their own KYC/AML system, and their own virtual currency exchange.
We have curated a list of the best crypto payment gateway for online businesses for beginners. Here is the list:
Bitpay
Coinbase
Coinpayments
Coingate
Plisio
OpenNode
Conclusion
We've come a long way since the first transaction carried out by Bitcoin. With the help of technology, we are able to send and receive money online with a lot of ease. The amount of transactions taking place using cryptocurrencies is increasing every year and will most likely continue to grow in the future. In 2022, we are going to see a lot of people using cryptocurrency to make payments on the internet.
The reason behind this is that it is much easier to send and receive money online using cryptocurrencies compared to paying using fiat currency. For more information on the cryptocurrency payment gateway, please contact Vegavid Technology.